---



The Move to Barrackpore



Barrackpore near Calcutta was the last station for the 1st Black Watch in India. It was 1400 miles away from Meerut and took two days and three nights by train to reach.

C Company left on the first train on October 2nd 1934 followed by B Company on October 3rd. The first sight of Barrackpore was the Racecourse Station and the portents were not good. It was pouring with rain and all of the unloading had to be carried out in a sea of mud. A and D Companies, who had been in the Hill Station of Kailana, upon arrival were lodged in tents just outside the actual Barracks. This encampment became known as "White City". By October 21st HQ Wing had arrived and the Battalion was complete. Unfortunately, life was made doubly uncomfortable by an infestation of white ants.

Barrackpore was considered to be a "pukkah" Scottish Colony, being as it was a centre of the Dundee Jute industry. There were many Dundonians here on the banks of the river Hooghly, and the air rang with the refrain of "Eh come frae Dundee". Even the "Char Wallah" was heard to say "I dinna ken".

Barrackpore was not a bad station. It had electric light, was near to Calcutta and the RaceCourse was alongside the camp. The Officers, on the other hand, found their Mess comfortable but not as roomy as Meerut. In addition, there were first class football grounds, tennis courts, putting greens, a nine-hole golf course and a "Talkie". However, it was also described as having a large jackal population with the ever-present danger of rabies to both men and dogs.

Half of C Company was sent for duty at the arsenal at Ishapore. There were about sixty men garrisoning the small arms factory, which was on the Hooghly about four miles up from Barrackpore. It was obviously an important place being described as the rifle factory for India.

One outstanding feature for forty or so men was a trip to the Anglo-Indian Group Jute Mills seven miles up the Hooghly, by steam launch. Although only a short distance from Barrackpore, the journey took over an hour due to the strength of the current. Near Barrackpore the Hooghly made a rather wide bend giving the opportunity of studying the French Colony of Chandernagore.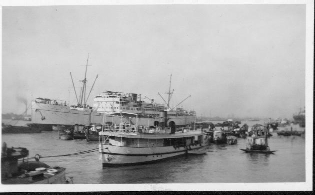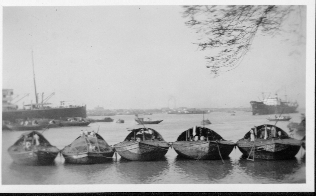 On the banks of the river Hooghly
To the top
Back
---
This site and all contents contained within are copyright (c) Ian Davidson 2000. Reproduction of this site is strictly prohibited without the authors written permission.